Do you dream of taking beautiful pictures of Tayrona Park? Organizing photo trips to Colombia for the past 5 years, I have had the opportunity to photograph the Tayrona Park from all angles. You will find here all the most beautiful beaches and subjects to be photographed in order to inspire you and make exceptional holiday pictures.
PICTURE OF TAYRONA PARK N°20
Cabo San Juan
If you're looking to vary the views so you can change from the postcard, you can start playing with palm leaves to bring you a different perspective on a subject that has been photographed thousands of times.
PICTURE OF TAYRONA PARK N°19
La Galza Blanca
The white egret is one of the great bird species that can be observed in Tayrona Park, especially in the Arrecifes area. But there are many more different species that you will be able to observe throughout the park. For this reason it is recommended that you take a specialized guide.
PICTURE OF TAYRONA PARK N°18
Bahia Cinto
Hidden gem of the Tayrona Park, Bahia Cinto has no tourist infrastructure. It has a magnificent coral reef, ideal for snorkeling.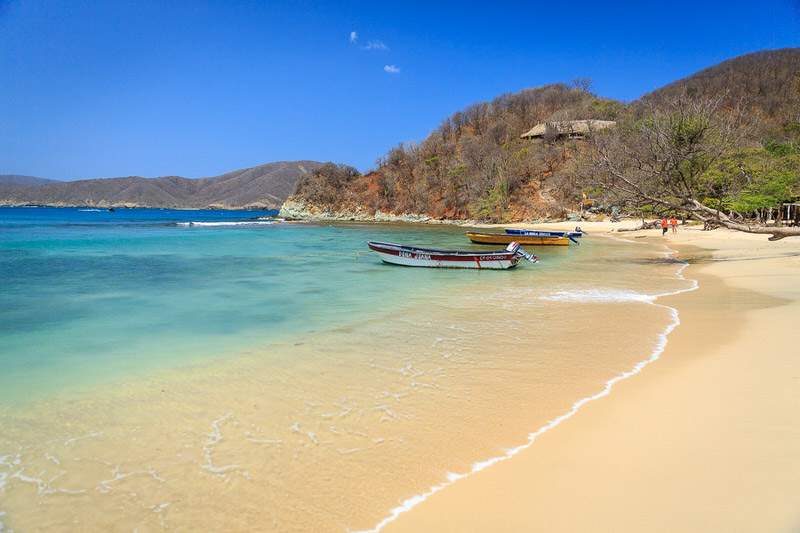 PICTURE OF TAYRONA PARK N°17
Cañaveral
An unusual point of view above the Ecohabs in drone allows to highlight the traditional architecture of these ecological constructions. However it is not given to everyone to be able to stay here, you will have to count at least 150 € per night.
PICTURE OF TAYRONA PARK N°16
Bahia Chengue
Bahia Chengue Beach has some beauty treasures that its neighbors do not have; a magnificent pink lagoon, highly sacred to the natives of the Sierra Nevada de Santa Marta because of its salt content.
PICTURE OF TAYRONA PARK N°15
Sierra Nevada
The Tayrona Park having many beautiful beaches does not mean that you can't look at the mountain side. Especially in the golden hours, there is often a little bit of fog to highlight the different valleys of the Sierra Nevada.
PICTURE OF TAYRONA PARK N°14
Cabo San Juan
Another photo of Tayrona Park, but this time seen from the sky, in order to highlight the crystal clear waters of Tayrona Park. The exception makes the rule, To have this kind of photo, you should not shoot at the golden hours of dusk or sunset. Prefer from 9h to 11h so that the sun is not completely vertical above the water and make white reflections.
PICTURE OF TAYRONA PARK N°13
La Piscina
La Piscina is one of the calmest beaches in the Cañaveral area. Ideal for families, and do some snorkeling. It is located 20 minutes walk from Cabo San Juan.
PICTURE OF TAYRONA PARK N°13
Mono Titis
The Bald Titis or Titi Cabeciblanco monkeys, endemic to Colombia, can live in groups of up to 20. Eat fruits, nectar, flowers, fresh leaves, insects and even lizards.
PICTURE OF TAYRONA PARK N°11
Playa Arenillas
The Playa Arenillas, is one of the quietest beaches in the tourist area. Located near the campsites in the Arrecifes area, the sea is a little less crystalline than on the other beaches in the area. Its relief has greatly changed in recent years, the sandy shoreline has widened by 100m.
PICTURE OF TAYRONA PARK N°10
Bahia Cinto
Bahia Cinto is a beautiful beach. Unfortunately it is also forbidden to the public. The nature there is magnificent and it even has a small coral reef for diving. If you can't go there, think about visiting Playa Cristal which is even more beautiful.
PICTURE OF TAYRONA PARK N°9
Pueblito Chairama
Pueblito Chairama is a highly sacred place for the indigenous culture of the Sierra Nevada de Santa Marta. It used to be accessible to the public via a hike from Cabo San Juan or Calabazo, but it has been closed to civilians. The natives come here every year to perform ceremonies to purify the energies of Tayrona Park.
PICTURE OF TAYRONA PARK N°8
Bahia Concha
Bahia Concha is one of the most beautiful in Tayrona Park, at least one of my favorites. Located just 30 minutes from Santa Marta, it's a great place to come and rest on weekends, or even better during the week because it's less crowded.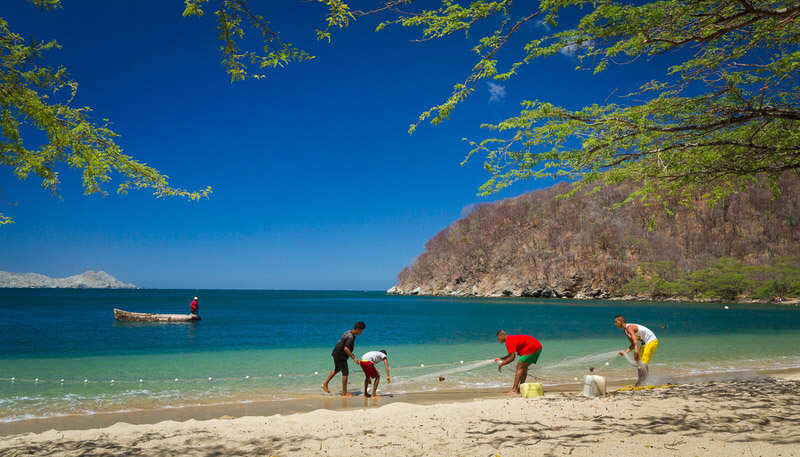 PICTURE OF TAYRONA PARK N°7
Tropical Forest
The first thing that grabs us when we arrive at Tayrona Park are its trees, which are beautiful. Among the many species is the ficus as in the picture below. It is never easy to photograph the rainforest. Think about photographing upwards, or playing with the sun rays through the branches.
PICTURE OF TAYRONA PARK N°6
Iguanas
Tayrona Park is best known for its fauna and flora. You will find many species, such as iguanas. When they are babies, they have this beautiful fluorescent green colour, which becomes paler and more discreet as they become adults.
PICTURE OF TAYRONA PARK N°5
Bahia Chengue
Bahia Chengue is located in the wildest part of the Tayrona Park but it remains un(fortunately) forbidden to the public since 2019. Its waters are nevertheless very crystal clear.
PICTURE OF TAYRONA PARK N°4
Ecohabs Tayrona
The Ecohabs is well known throughout Colombia. It is the most expensive hotel in Tayrona Park and was run by the Aviatur agency. After a change of concession of the park, we still don't know who will take it over. It is nonetheless photogenic, especially in drone.
PICTURE OF TAYRONA PARK N°3
Playa Cristal
Playa Cristal is aptly named. It is, after Cabo San Juan, the most touristy of the whole Tayrona Park. You can reach it by car from the Palangana entrance or by boat from Taganga. If you want to take pictures like this one come by land to arrive before the tourists.
PICTURE OF TAYRONA PARK N°2
Playa Arrecifes
Arrecifes beach is one of the wildest in the park. The path leading to it is now more difficult to access, and nature has regained its rights. There are beautiful stones to photograph, and even a crocodile that comes to sunbathe in the hot hours of the day.
PICTURE OF TAYRONA PARK N°1
Cabo San Juan del Guia
Cabo San Juan is the picture postcard par excellence of Tayrona Park, and even of all Colombia. It will take you 2 hours to get there on foot, or simply by boat from Taganga (Beware it moves). A piece of advice, spend the night there if you want to take pictures at sunset and sunrise.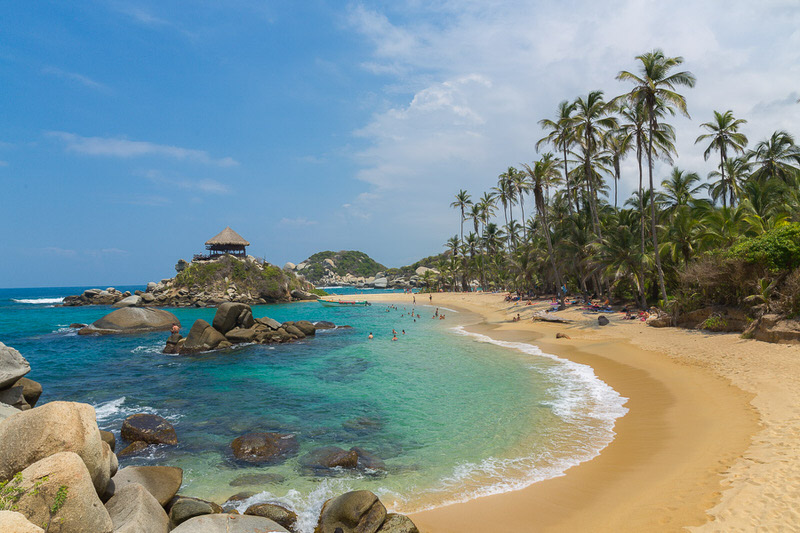 Last Word
Did you enjoy those photos of Tayrona Park? I have good news: I have a lot more in my Stock Photo Gallery If you have any questions about these places, please let me know in the comments below!