Colombia Caribbean Coast
This trip is organiszed in partnership with Voyages-Photos.com
AT A GLANCE
Why this photo tour
Go on a photo trip to Colombia, a land of colourful contrasts. We invite you to discover the most beautiful sites, the Caribbean coast of Colombia, take part in the adventure, embark on a photo trip to South America, Accompanied by Tristan Quevilly, professional photographer, capture your most beautiful photos of the Colombia. You will travel the country off the beaten track, between sea and mountains, meeting the indigenous tribes, the unspoiled fauna and flora of this magnificent country!
highlights
Photo opportunities
01
Shooting with a Palenqueras, icons of Colombia
02
Insider access to a Kogi village
03
The Colors of Cartagena, the Caribbean Pearl
04
Enjoy the Yona Dance, a wayuu traditionnal Ceremony
05
Mompox, the city trapped in time
06
Nueva Venecia the Floating village
day by day
Detailed itinerary
DAY 1
Welcome to Colombia !
Meet at the airport lobby, we will pick you up and transfer you to your hotel. (40min – 14.8km) Arrival at your charming hotel, installation. First, we will start with a dinner to get acquainted. Tristan will hold a briefing with presentation of the trip.
DAY 2
Minca
This morning drive 45 minutes to Minca in the Sierra Nevada Mountains. Tristan will accompany you to the Awindua project which began with the construction of Wiwa indigenous houses as found in their native villages. A truly unique experience and one of the highlights of our Colombia photography tour, this trip allows us to learn a lot. We'll meet a Wiwa family and have VIP access to photograph the village, including a private environmental portrait session . Back at the Mundo Nuevo hotel, meet at the most beautiful viewpoint in the region for sunset landscapes. After dinner will be an optional night photography workshop conducted by Tristan.
DAY 3
San Lorenzo – Barlovento
Early morning finds us at one of the most awe inspiring sunrise panorama locations in South America. This area is home to some 365 tropical birds, and we will be joined by a local expert to seek out the most rare & colorful to photograph them. We will have this magical place all to ourselves – no tourists! Drive back to Marinka Waterfall where we'll try some long exposures, and time permitting, we will stop at Colibri to photograph colorful hummingbirds. Awesome lunch on the Rio Piedras, then onto truly stunning Barlovento. The hotel is located where river meets sea, with a high mountain background. It's a remarkable location for a landscape photography workshop. After dark Tristan will also conduct an optional star photography session.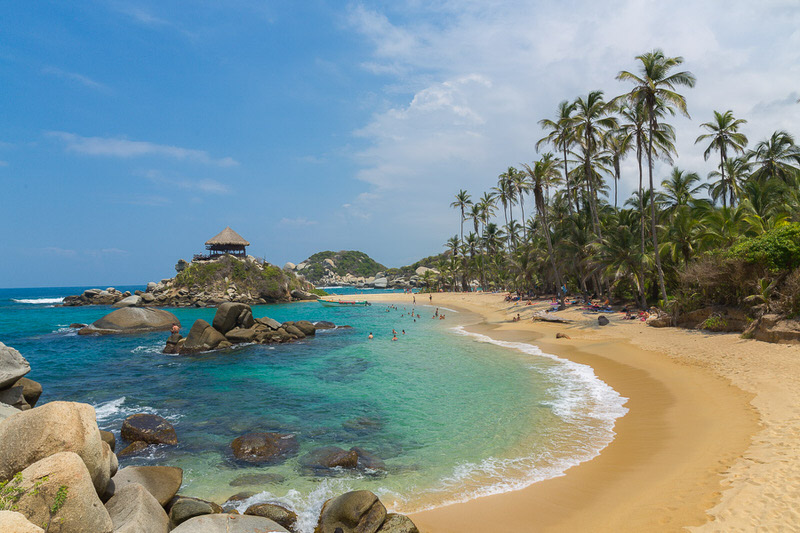 DAY 4
Tayrona Park
Departure from the Barlovento (we will leave our heavy suitcases and leave with a small backpack for 1 night). Photo session in the park with a naturalist guide, so as not to miss all the richness of the fauna. Photography in the forest: wildlife, landscapes (average walking level, but hot and humid) Picnic at the beach at "La Piscina". Arrival in Cabo San Juan Free time and swimming. Search for monkeys in the forest and photo session 5pm Return to the beach & Golden Hour photo session
DAY 5
Tayrona Park – Palomino
We will start the day with a beautiful sunrise, wake up at 05:00 am. Then direction the breakfast and small time of relaxation and swimming to benefit from crystalline waters. Back to the entrance of the park. We will now continue our route until we reach the banks of the Rio Don Diego. From there, we will continue by boat to reach the Taironaka reserve. Visit of the site. From there, we will go for a little ecological walk along the Rio. If we are lucky, we may see howler monkeys or babillas, small crocodiles living in the area. We will stop at the beach, where the river flows into the sea, then return by boat and transfer to Palomino.
DAY 6
Palomino – Punta Gallinas
If weather allows, we will try to geta sunrise over the snow peaks of Sierra Nevada. Then Departure head up to Riohacha. from where we will get into our 4×4 towards Uribia, the indigenous capital of the country. Visit of the city. Lunch and head to Punta gallinas where we will testimony Yonna Dance, a wayuu tradionnal ceremony organized in this fairy taile setting. And to finish this day in beauty, we will say goodbye to the sun accompanied by our wayuu model at the dunes of Taroa. Dinner and accommodation in chinchorros (traditional hammock) in a Wayuu ranch in Punta Gallinas.
DAY 7
Punta Gallinas – Cabo de la Vela
We'll take advantage of the beautiful morning light to take some great photos at Sunrise. After breakfast we will then leave for the beach of Punta Aguja Beach. Visit Wayuu School, where we will have the pleasure of doing some traditional activities and games with the children of the school. After a good lunch at the Luzmila ranch, and we will cross the bay by boat through its mangroves, where our 4×4 will be waiting for us to return to Cabo de la Vela. We will quickly settle in at the hotel and then leave to visit a Wayuu handicraft center to discover this ancestral art and take some photographs. To continue the day well, we now leave in the direction of the Wayuu Sugarloaf, known as the Pillar of Azucar to take some beautiful landscape photos.
DAY 8
Cabo de la Vela – Los Naranjos
Departure from Cabo de la Vela after breakfast. On the road we will make a stop at the Manaure salt flats to meet our Wayuu model and make an atypical photo shooting. Back to civilization, we now return to Riohacha, then our hotel. Meals on the road. Short photo stop in Palomino,. We will take advantage of the beautiful golden hours to take new pictures and complete our magnificent travel album, around a good cocktail & Photo Discussions. Family dinner and a good night's rest.
DAY 9
Nueva Venecia – Taganga
This morning highlights another Luminous exclusive unknown to tourism, and only to the rare photographer. It's so pristine in its authenticity we are hesitant to name it directly. Suffice to say it's a fishing village on the water of a massive lagoon full of beautiful seabirds. We take a private boat first to the mangroves, then to the floating village to see the fisherman at work. Since this is a weekday and school will be in session we will also visit the kids in class which is adorable good fun. Afro inspired Palafitos follow. In the afternoon, head to the town of Taganga. You will go down to the beach to watch the fishers boats and the local life for a beautiful sunset shot.
DAY 10
Taganga – Kogi Village
Today, departure from Taganga by 4×4 towards a village of coffee producers in Sierra Nevada de Santa Marta (900m), three hours drive. We will take advantage of our stop in the village to have lunch and discover the central square and its surroundings. Then head along the dirt road through coffe plantations before ascending on an epic drive into the mountains with. We will hike the last hour to reach the Kogi Village with majestic photo stops. Please take note, that the first day we will get acquainted with village before taking pictures.
DAY 11
Kogi Village
Unique experience today with one of the most important indigenous communities in the world, the Kogi. This morning the chief and villagers will meet us according to Kogi tradition, and we will spend the day discovering, learning, gaining trust with our earnest actions, and then photographing them. Daily activities include Coca leaf collection, preparation of the Fiqué fibre, drying the Coca leaf, cooking, picking fruit in the forest, and weaving Mochilas.
DAY 12
Kogi Village – Mompox
After an early wake up to enjoy the beautiful morning sun and a refreshing bath in the river, it will be time to take the road through the tumultuous tracks of the Sierra Nevada. A short break in an authentic coffee village, to have a bite to eat and take some pictures, then it's off to unspoiled, Colonial Mompox.
DAY 13
Mompox
Founded by the Spanish in 1530, the UNESCO World Heritage Site of Mompox is one of the most beautiful jewels of the colonial era. Despite this and it's fantastic location on the Magdalena River, it receives very few visitors. It's like having a giant living museum just for us! This morning photograph people on the streets, visit a park or two, churches, a few houses of prestigious families, and craft workshops of local artisans. Afternoon finds us on the glorious grounds of the oldest part of the city with professional Cumbia musicians in full costume to embellish our shooting. They will help us create some striking visual art. Live music and dancing at dinner tonight!
DAY 14
Mompox – Cartagena
It will be tough to leave, but we must! Morning drive to Cartagena, arriving mid-afternoon. The "Pearl of the Caribbean" is justly famous, rich in culture, colorful houses & lively squares. Hotel check-in and freshen-up before exploring lively places like Plaza de los Coches, Bolívar Park, etc. This will be largely free shooting, but Tristan will use his charm to cajole locals into impromptu models when he sees a particularly good possibility. You are encouraged to use your own charm as well! Travel photography isn't photojournalism, and creative license is fair game indeed. Developing good people skills can go a long way to improve your game. Most people you approach are not bothered at all, but flattered! Smile & engage…
DAY 15
Cartagena
This morning in legendary Cartagena will be one of those photographic experiences always remembered fondly. We hit the historical center streets while the tourists are still sleeping off the night before. Using beautiful colonial buildings as backgrounds, we'll have an exclusive chance to photograph the grace and colorful elegance of the Palenquera ladies, icons of Colombia. Great opportunity to get as street creative as we possibly can! This morning will include old city street dancers, the famous Getsemani district with its great architecture & umbrella streets. Free time until 5pm when we meet for a special Farewell Cocktail Party & Dinner at one of Cartagena's best restaurants.
DAY 16
End of the adventure
Don't worry, there is time this morning to sleep off any party juice you may have been a little over exuberant with last night! When ready we'll drive you to Cartagena's international airport, only 15 minutes away. Trust us when we say – you will miss this place! But you'll have many a good Colombia photo tour story and a lot of wonderful new photographs to share…
LODGING
Selected hotels
ACTIVIDADES ECOTURISTICAS
Santa marta
Camali
Hotel Camali has an outdoor swimming pool, a bar, a common lounge and a garden in Santa Marta. This 4-star hotel offers room service and concierge service. The property has a 24-hour reception, airport transportation, a shared kitchen and free WiFi access throughout the property. The hotel has some rooms with views of the patio and pool, and each room has a private bathroom and closet. Hotel Camali offers a continental or American breakfast. The accommodation is equipped with a grill. Popular landmarks near Hotel Camali include Santa Marta Cathedral, Santa Marta Gold Museum and Simon Bolivar Park. The nearest airport is Simón Bolívar International Airport, 11 miles from the hotel.
ACTIVIDADES ECOTURISTICAS
Minca
Mundo Nuevo
Located in the heart of a lush natural environment, Hotel Mundo Nuevo offers you an environmentally friendly stay, in perfect harmony with the ecosystem of the Sierra Nevada de Santa Marta. Offering rustic rooms with a breathtaking view of the magnificent landscapes of the region, the establishment also invites you to taste its vegetarian cuisine, made from organic products grown in the property's garden.
ACTIVIDADES ECOTURISTICAS
los naranjos
Maloka Barlovento
Maloka Barlovento is located just 100m away from the beach and only 10min by car from Tayrona Park. This is a truly peaceful haven where you will be able to relax while listening to the wide range of birds living there. The hotel offers a splendid view of both the sea and the jungle. It is important for you to know it might be impossible to swim if the sea is rough.
Tayrona park
Camping Cabo San Juan
A simple but comfortable campground, it is one of the only accommodations in Tayrona National Park, and without a doubt the best located. It offers all the facilities to live an excellent experience in the middle of nature far from the crowded city. It offers a common bathroom. Facilities: food service, mini-shop, snorkeling center. For non walkers, it is accessible by horse. At 50 meters from the most beautiful beach of Tayrona Park. It is an excellent starting point to make magical photos at sunrise and sunset.
ACTIVIDADES ECOTURISTICAS
Mompox
Casa Amarilla
Located on the historic square of Santa Barbara, just in front of the Magdalena River, Casa Amarilla is ideally located in the historic centre of Mompox. 10 rooms are grouped within this magnificent 17th century colonial house. A quiet, warm and simple atmosphere is guaranteed in this hostal. A roof terrace is freely accessible so that you can enjoy pleasantly warm evenings while enjoying a view of the rooftops and the river. Many services are offered in the hotel as well as in the rooms, in order to maximize the comfort of the travellers.
Guajira
Rancho Luzmila
The Luz Mila Refuge is located in Punta Gallinas, the highest point of the Guajira desert, facing the sea, where you will be able to observe magnificent sunsets. You will have the choice between accommodation in a traditional hammock: chinchorro or in a room (very basic). The bathroom is shared and the use of water is limited in this desert region. You will also be able to taste typical fish in the restaurant of the hotel.
Zona Tayrona
Hotel Barranquero
Located in El Zaino, Barranquero Hotel features a restaurant, bar, garden and free Wi-Fi. It offers room service and a terrace. Private parking is available at an additional cost.
All rooms have air conditioning and a private bathroom.
A continental breakfast is served daily at Barranquero Hotel.
Palomino
Sirena EcoHostal
Located on the beachfront in La Guajira, La Sirena Eco Hotel & Retreat invites you to discover its yoga classes and sustainable facilities. This eco-friendly establishment also offers salsa and drumming classes. The rustic-style rooms are well ventilated and have fans. Some rooms have private bathrooms, while others have access to a shared bathroom. You'll enjoy views of the tropical gardens and waterfront from your room. Set amidst nature, the hotel's restaurant serves dishes made with organic food.
ACTIVIDADES ECOTURISTICAS
Cartagena
Casa Lucy
La Casa de Lucy is not a hotel, it is a very family B&B, a small address of ours. Very well located in the historical center, near a small square where there are bars and restaurants. The famous Lucy will welcome you warmly and simply in her colonial house. After the patio and its garden of plants, you will be enchanted by the refined decoration and the personnel with the small care. The must of your stay: the breakfast, the best without doubt of the city! The rooms are equipped with air-conditioning
GALLERY
Places we will visit
features
Included in the tour
terms
Prices & details
CONTACT
Sign in to your photo tour
I'd be pleased to hear from you, so if you have any questions about this photo tour, and would like to sign in, please send me a message.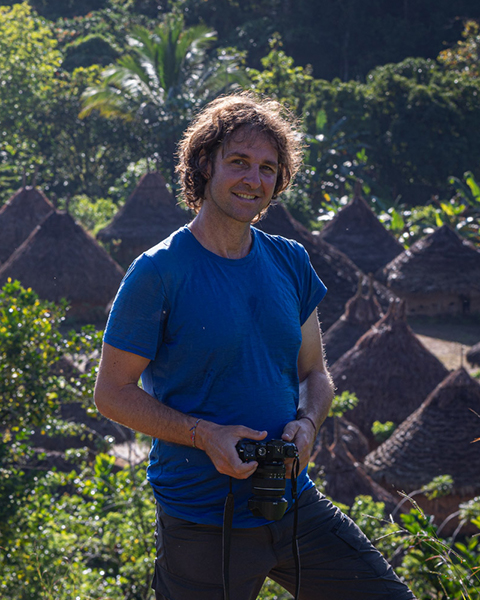 What ? How ? When ?
Frequently Asked Questions
WORKSHOPS
You may also like