AT A GLANCE
Why this photo tour
Many travelers discover the Caribbean coast of Colombia, but few have the chance to have an authentic experience in a traditional Kogui village. In this trip, you will have the chance to travel through territories closed to tourism for decades, and share authentic experiences in a Kogui community.
highlights
Photo opportunities
01
Hiking on ancestral Tayronas trails
02
Immersion & experience with Koguis families
04
The chance to document traditional Koguis activities
05
A unique meeting with the Mamo, the village shaman
06
The epic landscapes and the view of the snow-covered Pic Colon and Bolivar
day by day
Detailed itinerary
DAY 1
Santa Marta Kogui Village
Early departure from Santa Marta or Minca to a small settlement in the Sierra Nevada de Santa Marta, which will be our starting point Meeting with our Kogui guide. We'll start the 2h30 trek to the indigenous village. Arrival to the village and meeting with our hosts. Installation of the hammocks and lunch. Visit of the village and local activities. Cooking with our hosts. Night and rest.
DAY 2
Kogui Activities & Don Diego
This morning we will witness an epic sunrise with a magnificent view of the indigenous Kogui village. If we are lucky there will be a little bit of mist to give more atmosphere to our pictures. After a local Kogui breakfast, we will head to a refreshing bath at the river, and enjoy the waterfalls. Before lunch, we'll discover more about the kogui's way of life. In the late morning, we will head back to settlement for a desserved lunch. We go up then on the motorcycles in direction of the coast. Installation to the hotel and to finish this magnificent day, a sunset on a private secret beach.
DAY 3
Camarones
We will start the day with a beautiful sunrise, wake up at 05:00 am. Then direction the breakfast, and we'll head to Palomino for a 3h river activity : Tubbing ! From there we drive into Wayuu territory at Camarones, also home of a Flamingo Sanctuary where lagoons, rivers and the Caribbean all converge to create unique landscapes & habitat. This afternoon we meet a Wayuu family who will teach us about their culture. We will also have the great privilege to photograph one of their great ceremonial dances, called Yonna.
DAY 4
Camarones – Punta Gallinas
Wake to catch elegant pink flamingos at sunrise, with the snowy peaks of Sierra Nevada de Santa Marta in background. With the beautiful morning light, we may also have a chance to photograph other endemic species such as the white-whiskered spinetail, Tocuyo sparrows, etc. When the light gets too harsh we''ll have breakfast and departure head up to Uribia, the indigenous capital of the country. Short visit of the city. Lunch and head to Punta gallinas. And to finish this day in beauty, we will say goodbye to the sun accompanied by a wayuu model at the dunes of Taroa. Dinner and accommodation in chinchorros (traditional hammock) in a Wayuu ranch in Punta Gallinas.
DAY 5
Punta Gallinas – Cabo de la Vela
We'll take advantage of the beautiful morning light to take some great photos at Sunrise. After breakfast we will then leave for the beach of Punta Aguja Beach. After a good lunch at the Luzmila ranch, we go up on our motor bikes in direction of Cabo de la Vela. We will quickly settle in at the hotel and then leave to visit the Wayuu Sugarloaf, known as the Pillar of Azucar to take some beautiful landscape and portrait photos.
DAY 6
Cabo de la Vela – Manaure – Palomino
Departure from Cabo de la Vela after breakfast. On the road we will make a stop at the Manaure salt flats to meet our Wayuu model and make an atypical photo shooting. Back to civilization, we now return to Riohacha, then our hotel near Tayrona Park. Meals on the road. Short photo stop in Palomino,. We will take advantage of the beautiful golden hours to take new pictures and complete our magnificent travel album, around a good cocktail & Photo Discussions. Family dinner and a good night's rest
DAY 7
Palomino – Tayrona Park
Departure from the Palomino to Tayrona Park (we will leave our heavy suitcases at the entrance and take with us a small backpack for the day). Photography in the forest: wildlife, landscapes (average walking level, but hot and humid) Picnic at the beach at "La Piscina". Arrival in Cabo San Juan Free time and swimming. Return to the entrance of the park (option by Horse with supplement) and head to our hotel for a gorgeous sunset
DAY 8
Nueva Venecia – Minca
This morning highlights another exclusive destination unknown to tourism, and only to the rare photographer. It's so pristine in its authenticity we are hesitant to name it directly. Suffice to say it's a fishing village on the water of a massive lagoon full of beautiful seabirds. We take a private boat first to the mangroves, then to the floating village to see the fisherman at work. Since this is a weekday and school will be in session we will also visit the kids in class which is adorable good fun. Afro inspired Palafitos follow. Back to the mainland where we will enjoy a good meal by the sea. Dn the afternoon, direction the mountains, destination Minca
DAY 9
Minca – Cerro Kennedy
Early morning finds us at one of the most awe inspiring sunrise panorama locations in South America. This area is home to some 365 tropical birds, and we will be joined by a local expert to seek out the most rare & colorful to photograph them. We will have this magical place all to ourselves – no tourists! Drive back to Marinka Waterfall where we'll try some long exposures, and time permitting, we will stop at Colibri to photograph colorful hummingbirds. Awesome lunch on the Minca River, then free afternoon to chill in the swimming pool of Casas Viejas.
LODGING
Selected hotels
ACTIVIDADES ECOTURISTICAS
Kogui Village
Hammocks in the families
Durant ce séjour, nous mangerons ce que mangent les Kogis, Nous dormirons chez une famille Kogui située juste à côté du Village. Les Hammacs sont fournis, mais nous vous recommandons de prendre des habits chauds pour la nuit, lanternes et sac de couchages.
Guajira
Rancho Luzmila
The Luz Mila Refuge is located in Punta Gallinas, the highest point of the Guajira desert, facing the sea, where you will be able to observe magnificent sunsets. You will have the choice between accommodation in a traditional hammock: chinchorro or in a room (very basic). The bathroom is shared and the use of water is limited in this desert region. You will also be able to taste typical fish in the restaurant of the hotel.
ACTIVIDADES ECOTURISTICAS
Minca
Casas Viejas
Located in the heart of a lush natural environment, Hotel Mundo Nuevo offers you an environmentally friendly stay, in perfect harmony with the ecosystem of the Sierra Nevada de Santa Marta. Offering rustic rooms with a breathtaking view of the magnificent landscapes of the region, the establishment also invites you to taste its vegetarian cuisine, made from organic products grown in the property's garden.
GALLERY
Places we will visit
features
Included in the tour
terms
Prices & details
CONTACT
Sign in to your photo tour
I'd be pleased to hear from you, so if you have any questions about this photo tour, and would like to sign in, please send me a message.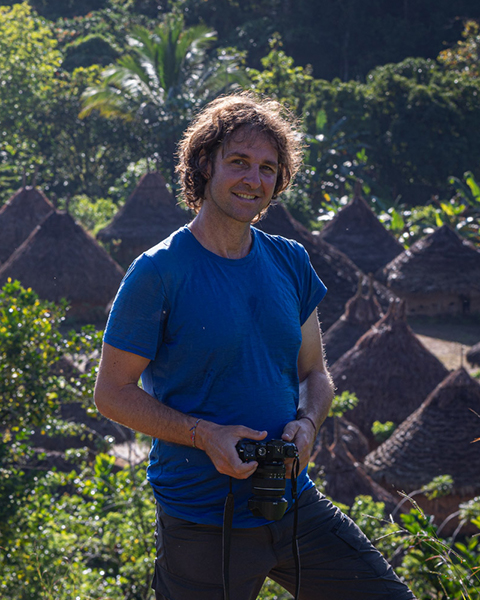 What ? How ? When ?
Frequently Asked Questions
WORKSHOPS
You may also like