AT A GLANCE
Why this photo tour
Many travelers discover the Caribbean coast of Colombia, but few have the chance to have an authentic experience in a traditional Kogui village. In this trip, you will have the chance to travel through territories closed to tourism for decades, and share authentic experiences in a Kogui community.
highlights
Photo opportunities
01
Hiking on ancestral Tayronas trails
02
Immersion & experience with Koguis families
04
The chance to document traditional Koguis activities
05
A unique meeting with the Mamo, the village shaman
06
The epic landscapes and the view of the snow-covered Pic Colon and Bolivar
day by day
Detailed itinerary
DAY 1
Santa Marta Kogui Village
Early departure from Santa Marta or Minca to a small settlement in the Sierra Nevada de Santa Marta, which will be our starting point Meeting with our Kogui guide and preparation of the mules. We'll start the 2h30 trek to the indigenous village. Arrival to the village and meeting with our hosts. Installation of the hammocks and lunch. Visit of the village and photographic activities. Cooking with our hosts. Night and rest.
DAY 2
Kogui Activities
This morning we will witness an epic sunrise with a magnificent view of the indigenous Kogui village. If we are lucky there will be a little bit of mist to give more atmosphere to our pictures. After a local Kogui breakfast, we will head to a refreshing bath at the river, and enjoy the waterfalls. Before lunch, we'll participate to a trapiche activity, which consist in processing the sugar cane. In the afternoon, head to meet a new family at the Mamo's house. Rest and meeting with the family. Night chat with the Mamo to answer all your questions about the culture.
DAY 3
Sunrise & Traditionnal Activities
A new replenishing sun will be offered to us this morning, with a breathtaking view on the whole valley and a new Kogi village. Last photography activity with the Kogis, documenting the Coca Leave harvest and the weaving of the traditional backpacks. It will already be time to say goodbye to the family. Hike 2h. Lunch in the settlement and Transfer back in 4×4, arriving in Santa Marta around 4pm.
LODGING
Selected hotels
ACTIVIDADES ECOTURISTICAS
Kogui Village
Hammocks in the families
Durant ce séjour, nous mangerons ce que mangent les Kogis, Nous dormirons chez une famille Kogui située juste à côté du Village. Les Hammacs sont fournis, mais nous vous recommandons de prendre des habits chauds pour la nuit, lanternes et sac de couchages.
GALLERY
Places we will visit
features
Included in the tour
terms
Prices & details
CONTACT
Sign in to your photo tour
I'd be pleased to hear from you, so if you have any questions about this photo tour, and would like to sign in, please send me a message.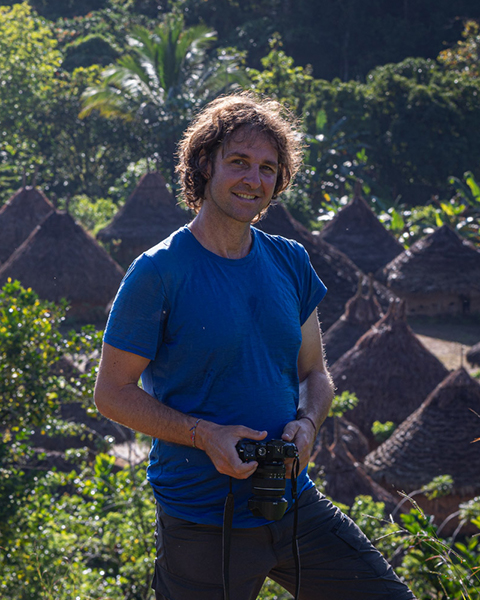 What ? How ? When ?
Frequently Asked Questions
WORKSHOPS
You may also like