One of the most diverse Country in the world, Colombia's landscapes are often overlooked by majority of travelers.  In this post you will discover pictures of the TOP 21 crazy landscapes to see in Colombia. We'll cover here the whole country from caribbean coast, Choco on pacific side, Guajira desert, Andes and many more places
COLOMBIA LANDSCAPE N°1
Tayrona Park Arrecifes
Definitely one of the most beautiful places in Colombia, Tayrona park is the destination that has everything for everyone. If you want to devote yourself to contemplating nature. In a small area you'll be able to see a wide variety of landscapes, between beaches, jungle and high mountains.
COLOMBIA LANDSCAPE N°2
La Guajira Cabo de la Vela
On the extreme north of Colombia is located one of the most peaceful beauty in Colombia : Guajira Desert. These landscapes are totally different from what you can see in Colombia, with it's ocre sand beaches. At the foot of the Sugar Pylon, a mountain that works as a tourist attraction, extends the Golden Beach, whose color gives it its name and that lends itself to rest on it with a natural shade until around 2:00 p.m
COLOMBIA LANDSCAPE N°3
Sierra Nevada de Santa Marta Minca
Without any doubt my favourite place in Colombia Mundo Nuevo in Minca. At 1000 meter over sea level, you can enjoy a gorgeous sunset over Sierra Nevada. But this is only the left side. On the right you can chill the sunset over the sea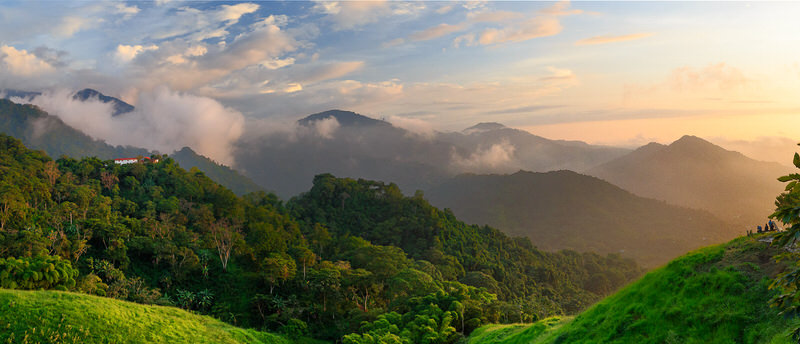 COLOMBIA LANDSCAPE N°4
Sierra Nevada de Santa Marta Cerro Kennedy
This is the most magical for me ! It is even higher than Minca. We are here at 3200m over sea level in Cerro Kennedy And like in Mundo Nuevo we have a 360° view over the snowy peaks of Sierra Nevada de Santa Marta in front of us, and over the sea on the right side. 
COLOMBIA LANDSCAPE N°5
Finca Barlovento Los Naranjos
This is my preferred hotel in Colombia : Barlovento Tayrona. It is a private beach were we the river joins the sea. An incredible sunset over Sierra Nevada de Santa Marta, while enjoying a good mojito ! 😉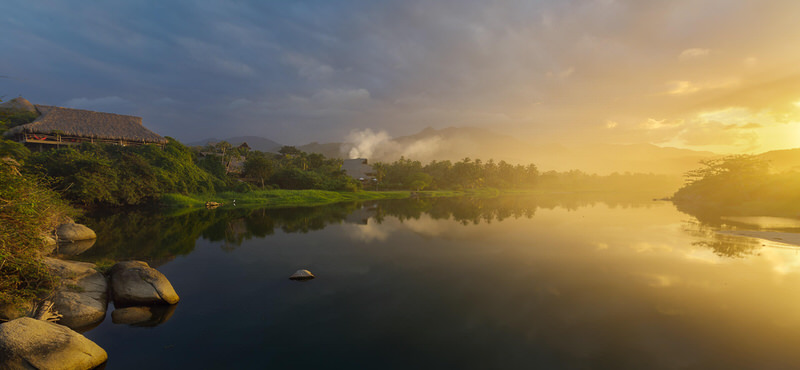 COLOMBIA LANDSCAPE N°6
Ciudad Perdida
The Ciudad Perdida or Lost City of Teyuna is a mythical archaeological site in the heart of the Colombian jungle known for its incredible vestiges where respect for the natives and nature are at the rendezvous! The Lost City is a sacred archaeological site of the Sierra Nevada de Santa Marta. It was founded between the 7th and 8th century by the indigenous Tayrona community, who considered the Sierra Nevada de Santa Marta as their sea and the heart of the world.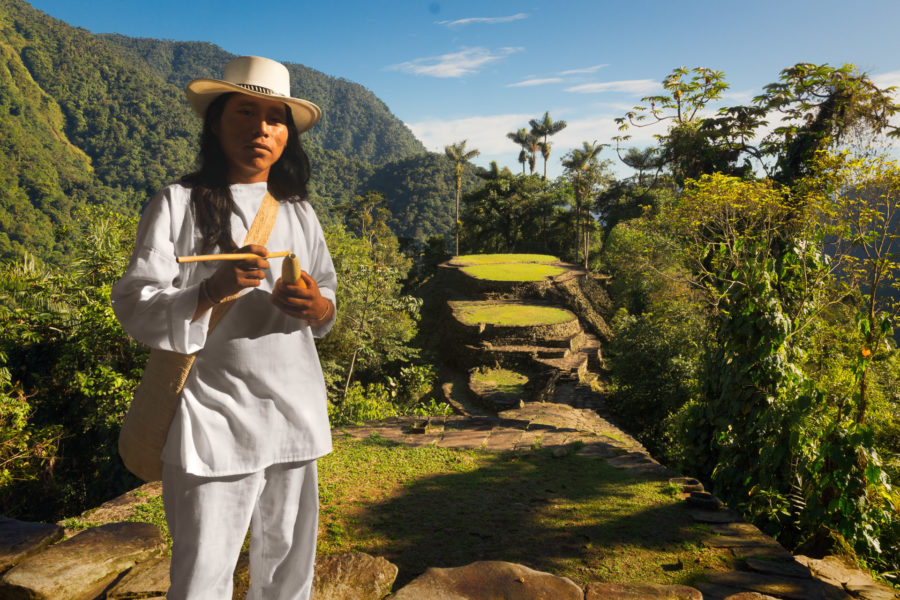 COLOMBIA LANDSCAPE N°7
Le Parc Tayrona Bahia Concha
A less know beach for tourism, nevertheless definitely worth to see : Bahia Concha. The get there you'll need to spend a night in Santa Marta as it is not on the same side of Tayrona Park. But the turquoise waters of this beach makes really beautiful landscapes pictures.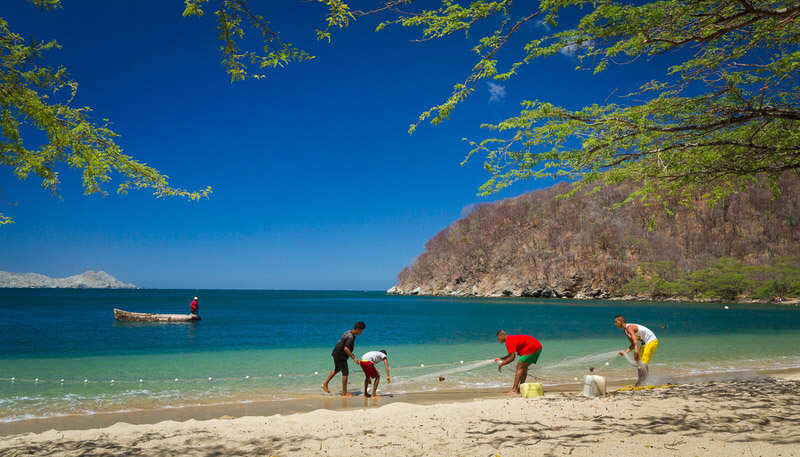 COLOMBIA LANDSCAPE N°8
Mompox
Probably the most colorful sunset I've seen in my life. And the show repeats every night in Mompox. If you go there don't miss the boat ride in Cienaga de Pijiño. When you'll get back, you will enjoy an incredible scenery with a sunset over Mompox from Magdalena River.
COLOMBIA LANDSCAPE N°9
Tayrona Park Playa Cristal
This unfortunately is quite famous, but the most photogenic beach of Tayrona Park: Playa Cristal. As Bahia Concha, you can't access it from the main entrance of Tayrona Park. You'll need to get there by a private taxi ( don't go walking, you'll die under the sun), or by boat from Santa Marta or Taganga.  I'll advise you to get there really early in the morning as I did to get this shot without anybody.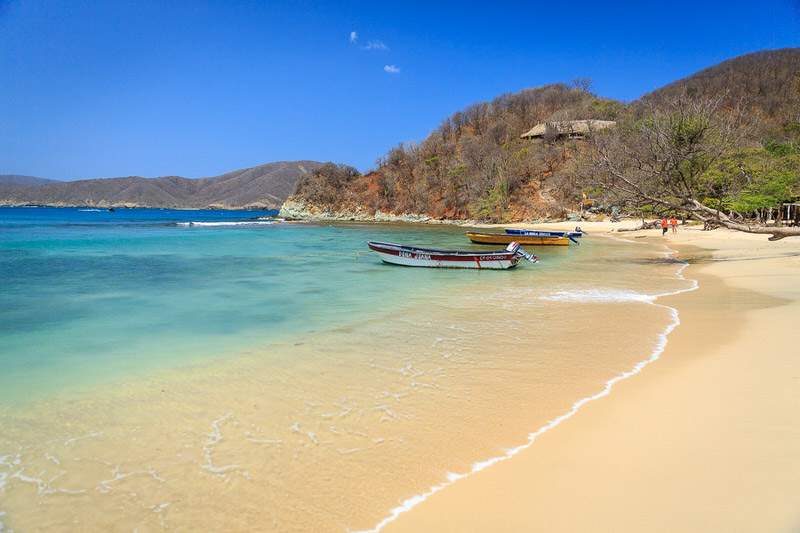 COLOMBIA LANDSCAPE N°10
Guajira Palomino
Landscapes around Palomino are astounding. You can enjoy sunset, sunshine, but can make also really beautiful shots on the river side of Palomino. For a pro tip, it is the only place where you can chill a view on the sea, palm trees, river and on the background : the majestic snowy peaks of Sierra Nevada de Santa Marta. Definitely on my preferred landscape list in Colombia
COLOMBIA LANDSCAPE N°11
Macarena Caño Cristales
The rainbow melted and it's in La Macarena. Caño Cristales is incontestably one of the most beautiful river in the the world. It is the visual effect produced by the "seaweed" that grow in this river and that can be appreciated between the months of June and December, during rainy season. 
COLOMBIA LANDSCAPE N°12
Amazonas Leticia
If you go around Leticia in Amazonas, you'll enjoy another kind of Landscapes, especially a sunset time over Amazon River.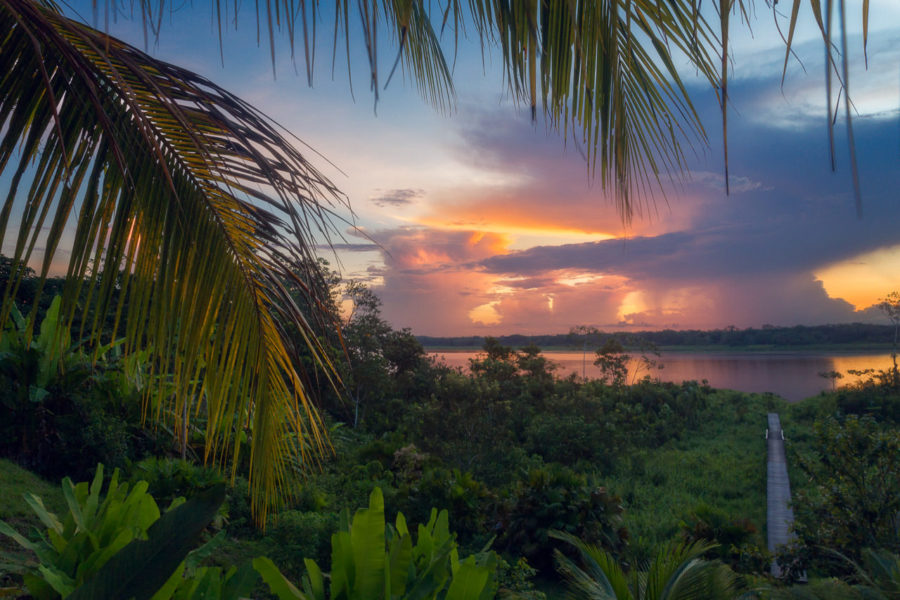 COLOMBIA LANDSCAPE N°13
Choco Bahía Solano
When you arrive at El Valle, the magic of Choco strikes you right away. Its name is famous along with that of Nuqui for the sighting of humpback whales that fleeing from the cold waters of Antarctica, reach these shores to mate in the region. But Bahia Solano has much more to offer with its fauna & flora, the waves of the Pacific Ocean, waterfall, thermal baths or the simple stay on beaches
COLOMBIA LANDSCAPE N°14
Choco Nuqui
A Bit further in the south, you'll get another wonderful beaches close to Nuqui. For me Guachalito is the "Cabo San Juan" of Choco (Cabo San Juan is the most famous beach of Tayrona Park)
COLOMBIA LANDSCAPE N°15
Coffe Triangle Valle de Cocora
In the Andes, let's start with the Queen place, the most famous one : Cocora Valley located close to Salento, Quindío. You 'll enjoy amazing landscapes with the majestic Wax Palm, rising at least 60 meters above our heads
COLOMBIA LANDSCAPE N°16
Coffe Triangle Salento
While we are in the region, let's show you another place : a Sunshine from Salento's Mirador. If you sleep in Salento, don't miss it at any cost ! 
COLOMBIA LANDSCAPE N°17
Huila Tatacoa Desert
Let's head over Tatacoa Desert which is totally different from any other thing you can see in Colombia. Some people call it the Grand Canyon of Colombia. Well… In a really smaller scale, but for landscape lovers it really worth to spend the night there. It is also famous for night photography. 
COLOMBIA LANDSCAPE N°18
Purace Park Termales de San Juan
A bit farther in the south Andes is Purace's Park. You'll discover the essence of Colombia : the Paramo's. This in these paramo's that all water is generated for all the country. A magical place you need to see to understand better Colombia's nature. This pic was taken in los Termales de San Juan.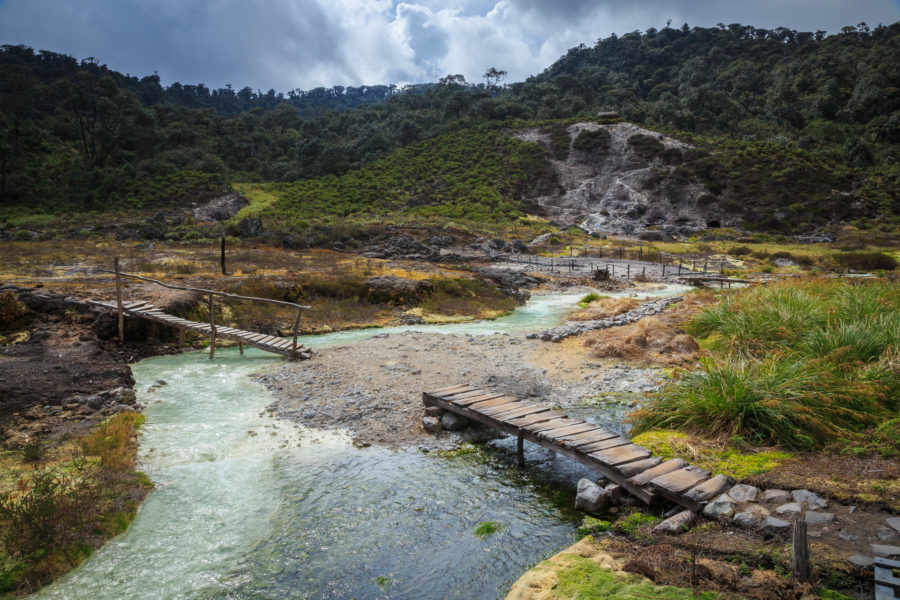 COLOMBIA LANDSCAPE N°19
Santander Chicamocha
Within the framework of Colombia's incredible landscapes at km 54 of the Bucaramanga – San Gil road, you will find one of the most recognized ecotourism parks in Colombia, the Canyon de Chicamocha. This means Silver snake in Muisca's indigenal Language. Chicamocha Canyon is the second largest in the world.  You could observe it from the 360° viewpoint, from the main metro cable, doing Bungie, Buggies, paragliding or traveling by cable car or metro cable
COLOMBIA LANDSCAPE N°20
Rocal Del Peñol
To complete our tour, let's head over Antioquia (medellin's region). A 2 hours from Medellin, you'll discover an incredible place : la roca del Peñol. A huge rock coming from nowhere, that offers you an incredible view over some artificial lagunas. A complete success from Paesa's work, to create this area. A pro tip : wait a bit before sunset before climbing, it will be less hotter, and you'll get better lights for pictures. 
COLOMBIA LANDSCAPE N°21
Rio Claro – Antioquia
That's the last place to discover now. Many tourist will miss it during their holidays in Colombia, but Colombian do know it is wonderful !!! I mean Rio Claro in Antioquia. This is an incredible park where you can practice many eco touristic activities. If you get there, don't miss the cave experience to see the Guacharo bird , astonishing ! 
Last word
That's it  ! Here are some of the 21 most beautiful landscapes I've seen in Colombia. Still hungry ? Don't hesitate to visit my site if you want to see more pictures of Colombia And what about you ? would you recommend another incredible places ? Sorry I didn't put them all, otherwise it would have been a Top 323 places to see ! 😉 If you have any questions or suggestions about these places, don't hesitate to let me know in the comments below !